"EAT ALL YOU CAN MEAT" at Wyndham Garden Manama in Juffair
For 18.90 BD Instead of 25.20 BD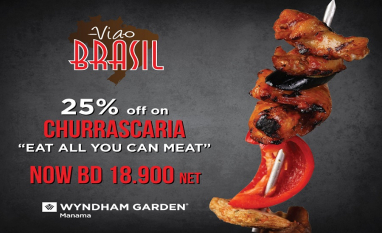 DEAL ORIGINAL PRICE
25.20 BD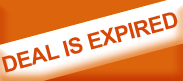 Description
Take a journey into the vibrant world of Brazilian cuisine and live entertainment at Via Brasil located at the 28th floor of Wyndham Garden Manama in Juffair.
Via Brasil is a Brazilian style all-you-can-eat barbeque restaurant, where guests have unlimited meat cuts served straight to the table by our Passadores (meat waiters). Via Brasil used the Churrasco cooking style, which translates roughly from the Portuguese for 'barbecue'. Distinctly a Brazilian style rotisserie, it owes its origins to the fireside roasts of the gaúchos of southern Brazil traditionally from the Pampa region, centuries ago. The Passadores (come to your table with knives and a skewer, on which are speared various kinds of meat, beef, lamb, chicken, and even pineapple. You can then choose from a wide selection of salads; hot appetizers and side dishes to compliment your meal. Located on the rooftop of Wyndham Garden Manama, Via Brasil offers fantastic views overlooking the Al Fateh Grand Mosque.
Services and facilities
· Rooftop location
· Indoor and outdoor seating
· Fixed menu with drink options
· Open 7:00pm to 02.00am
Conditions
Coupon validity start date : 2018-03-01
Coupon validity expiration date : 2018-03-31
Exclusive offer only on www.togetherinbahrain.com, not valid at Hotel
Prior reservation required, subject to availability
Not valid in conjuction with other promotions
Questions? Contact us at 34481868 or by e-mail: contact@togetherinbahrain.com
How it works?

Click on "I BUY" and follow the instructions
You can pay:

Online by credit card / debit card
Or ask us to come and collect the cash. Allow 2 working days to come and collect the cash from you.

You will receive your voucher by sms and email (check your spam folder please)
Call for booking, give your name and enjoy the deal !!!!

OR
Watch the steps in
About the deal and the company
The Company
As the largest Wyndham Garden hotel in the world, each of the 441 rooms and suites at Wyndham Garden Manama are designed with an eye for detail and equipped with deluxe amenities for your ultimate comfort and convenience. The hotel is adjacent to the upcoming Oasis Mall in Juffair and close to the airport.
\r\n\r\n
Whether you're on the road for business or pleasure, we know travel doesn't always go as planned. Our hotels are conveniently located in key business, airport, and suburban locations to make your travels a bit easier. Plus, we've thought of almost everything you'll need while you're here, so you can relax the moment you arrive.
\r\n\r\n
Leisure
\r\n\r\n
Our dedicated leisure facilities include an outdoor temperature controlled swimming pool, gymnasium, spa and salon...
\r\n\r\n
\r\n\r\n
Dining
\r\n\r\n
Wyndham Garden Manama offers a choice of 7 world-class specialty dining and entertainment options, delivering the finest..
\r\n\r\n
\r\n\r\n
Mice
\r\n\r\n
Wyndham Garden Manama offers you everything you need to host a successful meeting, including flexible meeting room space..
\r\n\r\n
\r\n\r\n
Wyndham Rewards® is the world's largest lodging loyalty program measured by number of participating hotels. With over 7,500 hotels worldwide, this offers over 40 million members the opportunity to earn valuable points for their stays.
\r\n\r\n
\r\n